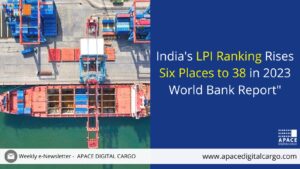 India has improved its logistics efficiency by moving up six places to rank 38 out of 139 countries in the seventh edition of the Logistics Performance Index 2023 (LPI) released by the World Bank. The country has undertaken several initiatives since 2015 under the leadership of Prime Minister Narendra Modi to enhance logistics efficiency.
According to a statement released by the Ministry of Commerce and Industry on Wednesday, the World Bank has recognized India's efforts towards increasing logistics efficiency, with remarkable improvements seen on four out of six LPI indicators. The statement further stated that this development is a strong indicator of India's global positioning, which has been made possible by the government's focus on reforming logistics infrastructure.
The Ministry added that the government launched the PM GatiShakti National Master Plan (PMGS-NMP) in October 2021 towards a coordinated approach, leveraging technology, for infrastructure planning and development. PMGS aims to break silos among different departments or ministries in states or Union Territories by combining all relevant data on a National Master Plan and State Master Plans, respectively. It is a GIS-based tool that integrates existing and proposed infrastructure initiatives of different central ministries, ensuring seamless movement of people and goods.
The Ministry emphasized that PM GatiShakti addresses the emerging needs of transforming the logistics landscape due to factors such as rapid urbanization, changing energy choices, e-commerce, and the need to develop resilient supply chains. Through the power of technology and collaborative efforts of concerned agencies, the PM GatiShakti initiative aims to promote a collaborative approach to transform India's logistics sector.
India's National Logistics Policy (NLP), launched in September 2022 by the Prime Minister, serves as a guiding document for states and union territories seeking to formulate logistics policies. The NLP focuses on upgrading and digitizing logistics infrastructure and services, streamlining processes for seamless coordination, reducing overall logistics cost, incentivizing employment generation and skilling of the workforce, and shifting towards more energy-efficient modes of transportation and greener fuels to reduce the carbon footprint.
The policy also emphasizes the adoption of multimodal transportation and building multimodal logistics parks, as well as targeted policy reforms to improve cargo processing times at ports, airports, and multimodal facilities. The government has invested in trade-related soft and hard infrastructure connecting port gateways on both coasts to economic zones in the hinterland.
Technology, including the Logistics Data Bank project, which applies RFID tags to containers and offers end-to-end tracking of the supply chain, has been critical to these efforts. The project promotes healthy competition among ports by providing information on performance benchmarking, congestion, dwell time, speed, and transit-time analysis.
Additionally, the Department for Promotion of Industry and Internal Trade (DPIIT) has been conducting the Logistics Ease Across Different States (LEADS) study since 2018 to identify and resolve logistics inefficiencies and improve trade facilitation across supply chains at the sub-national level. The Logistics Performance Index (LPI) report has appreciated the Logistics Data Bank for reducing inefficiencies while connecting the hinterland to ports.
On a national level, India has notified a productivity-linked incentive (PLI) scheme for the boost to creating global champions in manufacturing, PM Mitra Textile Parks, bulk drug parks, other areas of manufacturing and 43 towns of export excellence meticulously focusing on specific sectors for exports and provision of related infrastructure, according to the commerce ministry.
Resolving the logistics gaps or bottlenecks will help decrease the logistics cost and will lead to an increment in logistics efficiency which will contribute to ongoing reforms aimed at India becoming a global manufacturing or production hub in the coming years.
Further other initiatives, like Sagarmala, which aims to improve connectivity to ports and reduce cargo dwell time and Bharatmala and focus on improving road connectivity of major corridors, have played a pivotal role in improving India's logistics efficiency, the ministry said. The LPI index is a perception-based survey conducted across select stakeholders dealing with respective countries.