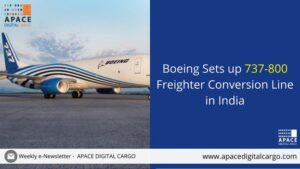 Boeing's commercial market outlook for last year stated that India's air cargo volume is projected to increase at an average annual rate of 6.3% until 2040. Domestic air cargo demand is expected to be 6.9%. The company predicts a need for over 75 freighters, including those built in factories.
For each conversion from passenger to freighter, Boeing creates a parts kit and collaborates with aircraft modification shops to execute the necessary manual labor. The 737-800 has the capacity to transport 52,800 pounds of cargo.
India would be the fifth country where Boeing contracts with third-party companies to install its 737-800 cargo modification kit, which includes a spacious cargo door, reinforced flooring, a new interior layer, a sturdy cockpit barrier to shield the pilots from moving cargo, and a loading system for cargo. In China, Costa Rica, and the United Kingdom, Boeing has five conversion partners, with the number of production lines varying from one to seven, as per Boeing.
Boeing is the leading provider of 737-800 conversions, having initiated commercial production in 2018. The firm has re-delivered over 120 reconfigured aircraft so far and has an additional 130 orders in the works. Independent conversion service providers for the 737-800 are present in Miami and Israel. The 2-year-old Airbus A321 converted freighter poses a threat to Boeing's dominance in the sector. The Airbus joint venture responsible for converting passenger planes to all-cargo mode recently unveiled plans to open a new facility in Tianjin, China.