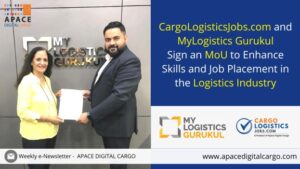 CargoLogisticsJobs.com, a dedicated job portal for the cargo and logistics sector and a product of Apace Digital Cargo, is thrilled to announce its collaboration with MyLogistics Gurukul (MLG), an esteemed initiative aimed at upskilling and upgrading industry personnel. The MoU was signed by Alpana Chaturvedi, CEO, MyLogistics Gurukul and Manoj Upadhyay, Managing Director, CargoLogisticsJobs.com. This partnership is set to revolutionize the way logistics professionals are trained and employed, addressing the growing demands of the industry and ensuring a seamless match between skilled individuals and top-tier logistics companies.
The Memorandum of Understanding (MoU) signed between CargoLogisticsJobs.com and MyLogistics Gurukul marks the beginning of a collaborative journey focused on enhancing skills within the industry and providing students of MLG with appropriate placement opportunities. The key objectives of this collaboration include job placement and skill enhancement.
As both entities combine their expertise, the partnership aims to bridge the gap between knowledge and skills, creating a highly skilled workforce that meets the demands of a rapidly evolving industry. Together, CargoLogisticsJobs.com and MyLogistics Gurukul strive to unlock the full potential of logistics professionals and contribute to the growth and success of the logistics sector.
About CargoLogisticsJobs.com:
CargoLogisticsJobs.com, launched in 2023, is a pioneering job portal that focuses solely on connecting highly skilled individuals with leading logistics companies. Founded with the purpose of bridging the gap between talent and opportunity, the platform is committed to identifying and screening candidates who possess the necessary skills, qualifications, and experience required for success in the industry.
About MyLogistics Gurukul:
MyLogistics Gurukul, established in 2019, has been at the forefront of transforming the logistics industry by addressing the changing landscape brought about by technology, automation, online marketplaces, and data analysis. Recognising the need for specialized skills that traditional training methods and degree programs fail to provide, MyLogistics Gurukul is also an affiliated training partner of the National Skill Development Corporation and Logistics Skill Council.