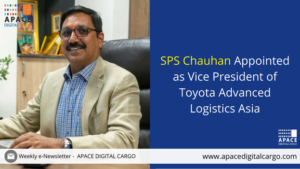 SPS Chauhan has been promoted to Vice President of Toyota Advanced Logistics Asia (TALA) by Bastian Solutions, a Toyota Advanced Logistics firm. In his new position, Chauhan will concentrate on developing a market presence and fostering cooperation among Toyota companies.
The appointment became effective on January 1, 2023. Chauhan served as Director of Sales and Operations for Bastian Solutions India for nearly 20 years, during which time he aided the company in becoming one of India's quickest-growing material handling automation businesses. The company has expanded considerably under his guidance and has collaborated with a variety of customers, including Asian Paints, Bajaj, Luxottica, and others.
Commenting on the promotion, Chauhan said, "I am excited to take on this new role and the challenges ahead of me. My focus will be on continuing to work toward TICO's vision, and helping clients get exposure to the latest in automation technology."
The market in Southeast Asia (SEA) is still in its early stages and is characterized by diversity, with companies primarily concentrating on small-scale automation. As the e-commerce and retail sectors in SEA continue to grow, firms are seeking ways to accelerate customer delivery and warehouse operations while decreasing reliance on manual labor.
Aaron Jones, President and CEO of Bastian Solutions said, "As a trusted partnership born of innovation, TALA and Bastian Solutions will continue our work of bringing customers, across a broad spectrum of markets, automated solutions that help them become leaders in their industries."
Chauhan's promotion indicates TALA's commitment to enhancing the intralogistics industry in the region, and they will work in close collaboration with Bastian Solutions to meet the increasing demand for automation. Chauhan will collaborate with other Toyota entities, dealers, and Bastian partners to raise awareness and increase the significance of advanced technologies that are unfamiliar to the SEA market.