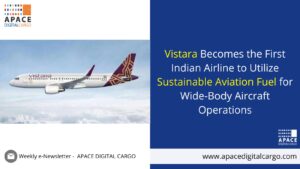 Vistara, the Indian full-service carrier, announced on May 4 that it has become the first airline in the country to fly a commercial domestic flight using sustainable aviation fuel (SAF).
Vistara, which is a joint venture between Tata Sons and Singapore Airlines, said the historic achievement was accomplished aboard its brand new Boeing 787-9 Dreamliner, which flew from Indira Gandhi International Airport (IGIA) in Delhi to Chhatrapati Shivaji Maharaj International Airport in Mumbai utilising a 17 percent SAF to 83 percent conventional jet fuel blend.
Vistara said it was able to save around 10,000 pounds of CO2 emissions on this flight. This trailblazing project is part of Vistara's continued efforts to reduce its carbon footprint and promote the aviation industry's long-term viability.
Vinod Kannan, Chief Executive Officer, Vistara, on the accomplishment said, "We have always been committed to driving sustainability and innovation in aviation, and are delighted to carry out yet another industry-first initiative of operating a commercial flight on a wide-body using SAF. We are thankful to our partners and the relevant authorities for their support."