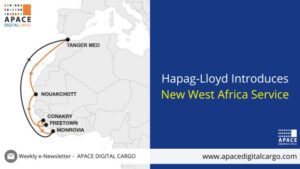 Hapag-Lloyd has unveiled its plans for a new Container WA1 Service, aimed at connecting West African ports with a frequency of once a fortnight. The service will commence on May 15th and connect Tanger Med, Nouakchott, Freetown, Conakry, Monrovia, and then return to Tanger Med.
This new service will establish Guinea, Sierra Leone, and Liberia as fresh markets for Hapag-Lloyd and will also ensure a smooth continuation of services to Mauritania. Freetown, Conakry, and Monrovia will be added to Hapag-Lloyd's portfolio of services through the WA1, with 3rd party agents representing the company in these ports.
Hapag-Lloyd has further announced that its WAX Service – West Africa Express – will have a new rotation and schedule. It will operate on a weekly basis, connecting Tanger Med, Dakar, Tema, Abidjan, and then returning to Tanger Med. The new rotation of the service will begin on May 7th.
This service will offer a weekly product for both import and export markets, providing greater flexibility to customers. In addition, the service has a high availability of reefer plugs and inland haulage options into Mali and Burkina Faso.
"We are excited to launch our new WA1 Service," says Dheeraj Bhatia, Senior Managing Director, Region Middle East, India and Africa at Hapag-Lloyd. "The service's launch reaffirms Hapag-Lloyd's strong commitment to expanding its presence in (West) Africa. It will enable us to better serve our customers and offer them more flexible and efficient solutions. Our customers in this region will have access to Hapag-Lloyd's global network via Tangier and will see the added opportunities by expanding our operations to new markets in Guinea, Sierra Leone, and Liberia."
Through the new WA1 and updated WAX services, Hapag-Lloyd aims to expand its reach in West Africa, adding new markets and providing more flexible options to its customers. The introduction of the WA1 service, in particular, will establish Hapag-Lloyd in Guinea, Sierra Leone, and Liberia, which are emerging markets with considerable potential.
With the support of 3rd party agents, the company aims to provide efficient and reliable services to these regions. Additionally, the new rotation and schedule of the WAX service will further enhance Hapag-Lloyd's services, offering more options and convenience to its customers.