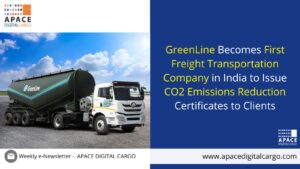 GreenLine, also known as Green Planet Logistics Pvt. Ltd, a pioneer in green mobility, recently made a groundbreaking announcement in India's freight transportation industry. It has become the first company to issue CO2 emissions reduction certificates to its clients, including JK Lakshmi Cement, UltraTech Cement, and Dalmia Cement. These certificates recognise their clients' commitment to reducing emissions by promoting the use of sustainable transportation.
The initiative is in collaboration with ESG Risk Assessments & Insights Ltd, a subsidiary of Acuite Ratings & Research Ltd, India's first ESG rating provider. This partnership will allow GreenLine's clients to officially account for their emissions reductions in their statutory and ESG reporting.
GreenLine is committed to decarbonising heavy trucking in India and is paving the way for widespread adoption of LNG-powered freight transportation. It has collaborated with multiple organizations to create India's first and only integrated ecosystem to make low emission LNG trucking a reality.
GreenLine's state-of-the-art LNG-powered trucks manufactured by Blue Energy Motors have helped its clients reduce their carbon footprint by up to 30% compared to diesel-powered trucks. The company is socially responsible and committed to improving working conditions for its drivers. The drivers enjoy an air-conditioned cabin, air-suspended seats, and 30% lower noise pollution, ensuring their comfort. The Level 1 ADAS (Advanced Driver Assistance System) and Driver State Monitoring improve driver behaviour and on-road safety.