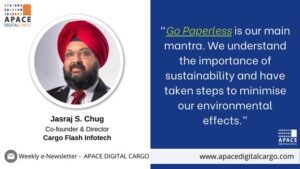 Apace Digital Cargo interviewed Jasraj S. Chug, Co-founder & Director, Cargo Flash Infotech, to delve into the company's range of services, technological advancements, success stories, expansion plans, and sustainability efforts in the air cargo industry. Cargo Flash differentiates itself by offering a comprehensive range of services and utilising artificial intelligence and machine learning to enhance operational efficiency. Their cloud-based platform ensures transparency, timeliness, and streamlined workflows. Additionally, the company prioritizes sustainability and has taken proactive measures to reduce its environmental impact, aligning its operations with eco-friendly practices. Here are the excerpts-
What is the range of services provided by Cargo Flash in the Air Cargo industry, and how do they differentiate themselves from their competitors?
Cargo Flash Infotech offers IT and business solutions to the global Air Cargo ecosystem and is successfully digitalising Air Cargo management since 2009. has been effectively digitalising Air Cargo management and providing IT and business solutions to the worldwide Air Cargo ecosystem since 2009.
Cargo Flash offers a comprehensive range of services in the Air Cargo industry, focusing on providing innovative and integrated technology solutions to enhance operational efficiency, reduce costs, and improve customer experience.
Our end-to-end 'nGen' solutions are intentionally developed with the primary goal of being accessible, transparent, and reliable while optimising cargo operations. For the Air Cargo industry, we deliver smart, intuitive, and secure solutions. The integrated nGen solution is a state-of-the-art, cloud-based solution that streamlines the entire Air Cargo process, from bookings and reservations to warehouse handling and revenue accounting. The system is designed to replace multiple standalone systems, providing an integrated platform for better efficiency and data accuracy. The solution includes the nGen CRA (Cargo Revenue Accounting) System, the nGen RES (Cargo Sales & Reservation System), the nGen D2D (Door-to-Door) e-Commerce System, the nGen RMS (Revenue Management System), the nGen WMS (Warehouse Management System), and the nGen TPS (Target Planning System).
Cargo Flash differentiates itself from competitors with the following aspects:
Integration: Cargo Flash's solutions are designed to replace multiple systems working in silos, providing a single, integrated platform that improves efficiency and reduces the likelihood of errors and data discrepancies.
Scalability: The cloud-based architecture of Cargo Flash's solutions ensures easy scalability, allowing businesses to adapt to changing market conditions and growth without significant infrastructure investment.
Innovation: Cargo Flash continuously invests in research and development to incorporate the latest technologies such as AI, ML, and IoT into its solutions, staying ahead of the curve and delivering cutting-edge solutions to clients.
Customer Focus: Cargo Flash prides itself on its customer-centric approach, working closely with clients to understand their needs and provide customized solutions that deliver the best possible results.
Cost Effectiveness: By offering integrated solutions that streamline processes, reduce manual intervention, and improve operational efficiency, Cargo Flash ensures a cost-effective approach for its clients, providing a competitive edge in the air cargo industry.
These factors contribute to Cargo Flash's unique positioning in the market, enabling them to offer a comprehensive range of services that address the diverse needs of the Air Cargo industry while differentiating themselves from competitors.
How does Cargo Flash use artificial intelligence and machine learning in their technology solutions to enhance the operational efficiency of the air cargo industry?
Cargo Flash incorporates Artificial Intelligence and Machine Learning into its technology solutions to enhance operational efficiency in the Air Cargo industry. These advanced technologies enable Cargo Flash to offer intelligent and automated solutions that streamline processes and improve decision-making. Here are some ways AI and ML are utilised in Cargo Flash's solutions:
Demand Forecasting: AI and ML algorithms analyse historical data and identify patterns to predict future demand accurately. This helps airlines and cargo handlers to optimize capacity planning, pricing, and route selection, resulting in better operational efficiency.
Dynamic Pricing: By incorporating AI and ML algorithms, Cargo Flash can offer dynamic pricing models that consider various factors such as demand, capacity, and market conditions. This helps airlines to maximize revenue and improve yield management.
Route Optimization: AI-powered algorithms can analyse multiple data points, to suggest the most efficient and cost-effective routes for cargo transportation. This optimization reduces costs and improves delivery times.
The dynamic route generator in our e-Commerce, Door-to-Door solutions uses AI to generate the best route for pick-up or delivery of multiple consignments, ensuring the most optimised route is taken always.
By leveraging AI and ML technologies in its solutions, Cargo Flash significantly enhances revenue opportunities in the Air Cargo industry.
Could you describe the benefits of using Cargo Flash cloud-based platform for air cargo processing, and how does it ensure transparency and timeliness in the process?
Cargo Flash's cloud-based platform for Air Cargo processing, the nGen System, offers a multitude of benefits that contribute to enhanced transparency and timeliness in the Air Cargo process. Here are some of the key advantages:
Real-time Data Access: Being a cloud-based platform, the nGen System provides real-time access to data, enabling stakeholders to monitor and manage cargo operations more efficiently. This immediate access to information ensures that any updates or changes made within the system are reflected instantly, providing full transparency and accurate data throughout the process.
Improved Collaboration: The nGen System facilitates seamless collaboration between different departments, partners, and stakeholders involved in the cargo handling process. With all parties working on the same platform, communication is significantly improved, reducing the likelihood of delays or miscommunications that could impact the overall process.
Remote Accessibility: As a cloud-based solution with SLAs as high as 99.95% with High Availability and Disaster Recovery built-in, the nGen System can be accessed from anywhere with an internet connection. This allows stakeholders to monitor the progress of cargo shipments in real time, ensuring that any potential issues can be identified and addressed promptly, leading to a more timely and efficient process.
Enhanced Security: The nGen System is hosted on secure cloud servers, offering advanced data protection and security measures. This ensures that sensitive information is safeguarded, while also providing authorized users with the necessary access levels to maintain transparency.
Automation and Integration: The nGen System supports automation and integration with other systems, reducing manual processes and the risk of human error. This not only streamlines operations and saves time but also enhances the accuracy of data, ensuring transparency at every step of the cargo handling process.
To summarise, Cargo Flash's nGen System provides a comprehensive cloud-based platform that enhances transparency, timeliness, and efficiency in Air Cargo processing. By offering real-time data access, improved collaboration, remote accessibility, enhanced security, automation, and customizable workflows, the nGen System ensures a seamless and transparent Air Cargo handling process. Additionally, the integrated customer portal allowed forwarders to view their AWBs and invoices in real-time and even make payments.
Can you share any success stories of how Cargo Flash's technology solutions have helped its clients enhance their revenue and streamline their air cargo logistics?
One of Cargo Flash's notable success stories involves Philippine Airlines, the flag carrier of the Philippines. Philippine Airlines was facing several challenges from a visibility and control perspective, including duplication of work, and the need for multiple systems working in silos for their international and domestic operations. As a result, they had to maintain a large team size and rely on manual processes, which led to a lack of real-time visibility and control over their operations.
To address these challenges, Cargo Flash proposed nGen ICMS, an integrated cargo management system that would replace multiple reservations, operations and revenue accounting systems. This single platform eliminated data duplicity and repetition of data entry, provided real-time credit limit management, and offered instant data visibility to the accounting and finance team, among other benefits. Moreover, the solution included built-in Business Intelligence that provided real-time reports and dashboards, allowing management to stay on top of the business.
By implementing nGen, Philippine Airlines was able to streamline its operations, reduce the manual workload, and gain better control and visibility over its business. With this solution, Philippine Airlines was able to enhance its revenue and improve its air cargo logistics. This is just one example of how Cargo Flash's technology solutions can help clients overcome challenges and achieve success.
What are the expansion plans of Cargo Flash, and how do they plan to stay at the forefront of the evolving air cargo industry?
In terms of growth, we intend not only to introduce additional future-ready solutions and technology to help streamline the Air Cargo company but also to expand the reputation of our existing solutions across the world. We will unveil new plug-ins and advanced capabilities in the existing Octoloop platform in the near future to alter the entire cycle and process of digital cargo booking. Additionally, we are on the way to announcing a few additional arms of Octogo.
How does Cargo Flash prioritise sustainability in its operations, and what steps has the company taken to reduce its environmental impact in the air cargo industry?
"Go Paperless" is our main mantra. We understand the importance of sustainability and have taken steps to minimise our environmental effects. One of the most significant ways that digitization can contribute to environmental sustainability is by reducing the amount of paper used in the Air Cargo industry.
Cargo Flash supports the transition to paperless Air Cargo processes by offering comprehensive e-Freight solutions, including e-AWB, e-CSD, and e-DGD.
We also track the CO2 emission at AWB level and flight level, thus ensuring that the stakeholders are aware of their Carbon Footprint. We are also in the process of introducing the option to offset this footprint against each shipment.