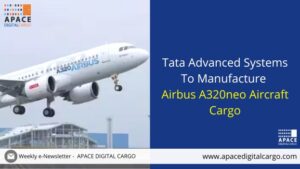 Airbus made an announcement that Tata Advanced Systems (TASL) would produce the bulk cargo and cargo doors for the A320neo series of aircraft. Airbus, a significant player in European aviation, stated that TASL would manufacture these doors using cutting-edge robotics and automation technologies at a new site in Hyderabad. According to Airbus, each shipset would include one bulk cargo door in addition to two cargo doors.
Airbus made this announcement weeks after Air India, which is owned by the Tata Group, placed an order for 470 aircraft, including 270 from Airbus. In their statement, Airbus described the contract as a significant step towards increasing their competitiveness in the single-aisle aircraft market and supporting the ramp-up of the A320 program.
According to Airbus, they presently procure components and services worth USD 735 million every year from more than 100 Indian suppliers. Furthermore, Airbus claims that every commercial aircraft and helicopter they produce has critical technologies and systems designed, manufactured, and maintained in India.
"The latest contract underlines our continued commitment to 'make-in-India' for an AatmaNirbhar Bharat (self-reliant India)," said Remi Maillard, President, and Managing Director of Airbus India and South Asia.
In addition, Airbus will build the C295 military aircraft Final Assembly Line (FAL) with TASL in Gujarat, the first concrete, large-scale manufacturing aerospace programme in the private sector, Airbus said. The programme will unlock the potential for cutting-edge design, component manufacturing, aircraft assembly, and services capabilities across the value chain, fully addressing the Indian government's ambition of an 'aatmanirbhar Bharat' in defence manufacturing, it said.
In TASL, Airbus has a trusted and able partner that will support the ramp-up of the A320neo family aircraft, said Maillard and added, "we will continue to grow our industrial footprint and the aviation and aerospace ecosystem at a fast pace in India." TASL has an ongoing relationship with Airbus and "this new contract win will further bolster our partnership in aerospace manufacturing in India," said Sukaran Singh, Managing Director and Chief Executive Officer at Tata Advanced Systems Ltd (TASL).