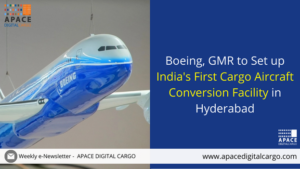 Boeing, the renowned aircraft manufacturer, has entered into an agreement with GMR Aero Technic to establish a Boeing Converted Freighter (BCF) assembly line in Hyderabad. Although the investment details have not been disclosed, the company expressed confidence in the cargo market in India, given the presence of various airlines and start-ups actively searching for freight aircraft.
The commencement of the first freighter's rollout will be determined by demand, according to Boeing. Furthermore, the company stated that it will utilize the Hyderabad facility to target the African and Southeast Asian markets. The freight conversion process entails transforming a used aircraft or a mid-life asset into a freighter.
"Our teams are in talks with all the major airlines and start-ups in the cargo segment in India. Cargo companies are seeing the growth potential in the space in the country. Our call to set up a freight conversion line. Our goal is region specific. It is not particularly India, but India and beyond. It does not include any hard boundaries per se, but you can expect that it includes potentially Africa and South East Asia," said Salil Gupte, president, Boeing India. Gupte added that the potential customers are airlines themselves, cargo companies and leasing companies, which would convert the aircraft and lease it for freight operations. "This aircraft does not exist as a dedicated freighter. There is no narrow body 737 freighter. Within India, several carriers have already taken up freighter conversion. Spicejet has taken this class of plane. Quick jet operating for Amazon has taken this class of plane. IndiGo has taken the narrow body freighters. We know that there is going to be demand for this plane," Gupte added.
GMR Aero Technic is the first Boeing supplier in India that will have the capability to support future conversions of both domestic and foreign aircraft.
Ashok Gopinath, CEO, GMR Aero Technic, commented on the agreement, "With the rise in the Indian aviation industry, MRO services in India has been one of the fastest-growing market globally. The collaboration with Boeing reaffirms our capability to provide world-class MRO services and further contribute to the 'Make in India' initiative."
Boeing's Commercial Market Outlook predicts that India's air cargo sector will grow at an average annual rate of 6.3%, propelled by the manufacturing and e-commerce industries, as well as the Make in India campaign. The company expects the demand for over 75 freighters, including converted and production freighters, to rise in the country.