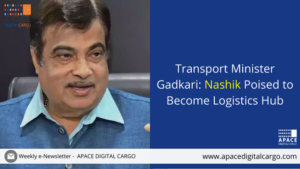 Union Minister Nitin Gadkari highlighted the central location of Nashik on the route linking Kashmir to Kanyakumari, and emphasized the city's potential to become the logistics capital through the development of cold storages and logistical parks.
Speaking at an event hosted by the Nashik District Transporters' Association (NDTA), he also mentioned the government's efforts to improve infrastructure for the swift movement of goods, which could serve as an opening for individuals to establish facilities that promote trade.
Gadkari said, "The Surat-Chennai greenfield corridor is passing through Nashik. It will eliminate the need for vehicles to travel through the congested parts of Mumbai. With the Nagpur-Mumbai Expressway also passing through the district, Nashik has become an interesting place for the development of logistics. If the transport association here takes the lead, Nashik can become the logistics capital. Bhiwandi in Thane district is a logistical hub. The one in Nashik can serve the purpose of not only transporting industrial goods to the southern and northern states but also agricultural and pharma products."
Nitin Gadkari reiterated that the strategic location of Nashik, with two major expressways facilitating faster movement of freight, can help reduce fuel costs and transportation time, ensuring the timely delivery of agricultural produce to the markets in good condition. The Union Minister emphasized the government's commitment to bringing down logistics costs from the current 16% to below 9%.