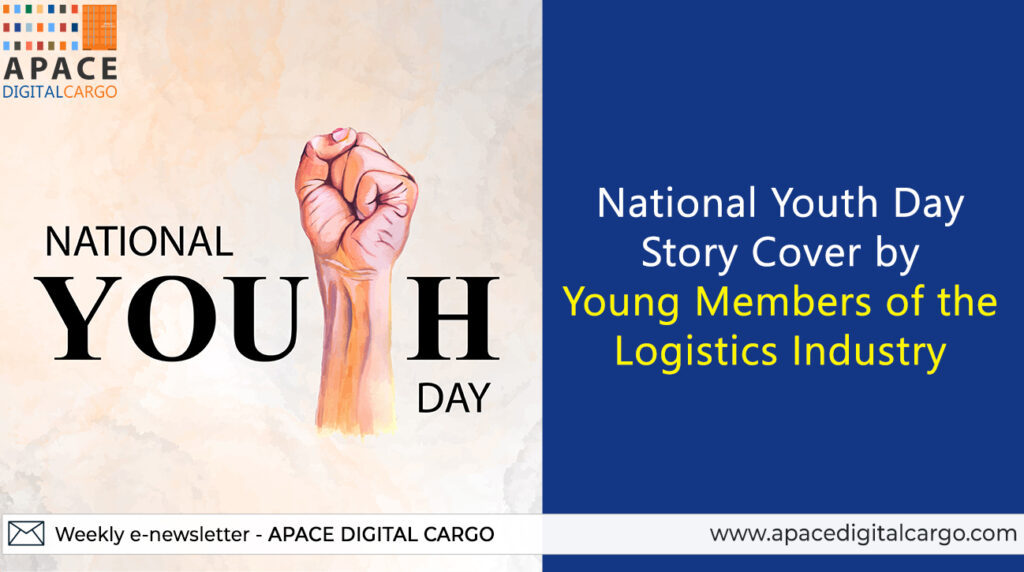 The National Youth Day is celebrated to honour Swami Vivekananda on his birth anniversary and encourage the youth to work hard, take inspiration from the leader's life and contribute to the overall development of their country. Swami Vivekananda said, "The youths of today when prepared legitimately will be the fate of tomorrow." So, on this day, we have taken inputs from young members of the industry. Here are the excerpts:
AVISHKAR SRIVASTAVA, CHIEF INNOVATION OFFICER, THE PDP GROUP
"India has one of the world's youngest population with an average age of 29, and logistics is among the fastest growing industries in the country. This ensures a great match for youngsters who are looking to pursue their career in logistics and supply chain. With the sector getting more organised each day and with the government's digitalisation initiatives, I believe youngsters are going to play a major role in revolutionising Indian supply chain. On National Youth Day, I would like to tell all youngsters that it is our time to take the lead and make transformative changes at the workplace. Let's work together and collaborate to truly innovate the logistics industry."
ABHIYANK GOVIL, BUSINESS DEVELOPMENT – DIRECTOR, ACTIVAIR AIRFREIGHT INDIA PVT. LTD.
"In today's day and age, customer expectations are running high. All customers – whether they're individuals or businesses- want a quick and seamless delivery experience. To achieve this, we need intelligent tech systems and automation in the supply chain. Towards this end, the Hon'ble PM's Gati Shakti Yojana will play an important part in re-developing the infrastructure, reducing our timelines and carbon footprint subsequently, which is much needed at the industry level."
AYESHA KATGARA, HEAD OF CORPORATE STRATEGY, JEENA & COMPANY
"Logistics industry has recently witnessed a paradigm shift in terms of attracting today's youth. I feel privileged to be one of them and to be able to drive a positive change in the sector. Young minds in the industry have paved the path for digitalisation and innovation and showcased how these could be a game changer for the logistics industry. India is a young country with more than 50% of its population below the age of 25 and more than 65% below the age of 35. An influx of young talent can not only bring in fresh perspectives but also aid in making the logistics sector more agile, robust, and competitive. I reckon the youth of India has the potential of being the change-makers and thus, make a transformative difference to our nation's logistics sector."
VIRAJ VOHRA, DIRECTOR, CONTINENTAL CARRIERS PVT. LTD.
India is placed 5th in the world's youth population. This creates a demographic dividend for the nation and helps it to achieve the USD 5 trillion economy objective. The large youth population offers both the market and workforce to the logistics industry. The youth are the drivers for innovation, entrepreneurship, and diversity. India has more than 50 pc of the population below the age of 25. To keep up with the fast-paced global practices, logistics companies need to take initiatives to educate the youth about the logistics industry. This will not only provide the youth with insight about the industry but will also help the industry
with well-trained and educated workforce supply.
BINITA TANNA, GENERAL MANAGER – SEA FREIGHT, LINKS FORWARDERS
"When we talk about logistics today it is more than just moving cargo from A to B. It is about digitisation, automation, seamless service to customers, visibility in supply chain and driving more efficiencies for all parties involved. India's logistics cost is high at approximately 14% of GDP compared to 11 pc average for BRIC countries and 8-10 pc for developed markets such as Europe and North America. Today the government is a lot more focused on the sector and the National Logistics Policy recently launched by the Prime Minister is aimed towards this, in driving change to improve infrastructure, reduce inefficiencies and lower costs.
Policy measures such as E-Way Bill and GST are reducing turnaround time in road transport. Measures such as DFC (dedicated freight corridor) where phased operations are underway will allow for greater speed and productivity from the railways. Warehousing is likely to see better demand backed by faster adoption of 3PL (third party logistics) and e-commerce penetration. Further, India has a unique geographical position and a large number of ports where there is potential to increase capacity, automation and turnaround times.
Given conducive demand, favourable policies and Government's manufacturing push in India; today the logistics sector is at an inflection point with potential for higher investments and growth rates. "If you are walking down the right path and you are willing to keep walking, eventually you will make progress"(Barack Obama). The sector continues to move in the right direction and over the years will play an even greater role in India's growth and progress."
UDAYVEER SINGH, DIRECTOR, GROUP LOGISTICS
"Logistics is one of most dynamic yet challenging industries we have in the world. However, there has been no better time than now to focus on the dynamism of this industry; given that the most of the challenges in the past were trivial due to lack of technology. It's time for the youth of our country to really take things to the next level now."
CHAITALY MEHTA, DIRECTOR, EKF GLOBAL LOGISTICS
"Hi Young Guns, the Logistics Industry welcomes you with open arms. This industry will earn you money, fame, appreciation and recognition but if you are:
Honest
Respect your Teachers and Seniors
Take no short-cuts
Give and Accept Loyalty
Work Hard
Don't forget your Roots.
Don't do any of the above and you will still make money but your Reputation? In this industry, more than money, it is our reputation that is our calling card. Choose your path wisely."
PANKIL DHARMESH JHAVERI, AIR FREIGHT MANAGER, LINKS FORWARDERS
The logistics industry personally I feel was one of the industries who has shown to be one of the fastest to adapt to the lockdown during covid. The 2020-2021 time period, India was amongst the few nations who had been in the lockdown the longest but meanwhile had strived to keep up to its export volumes, the cumulative value of merchandise exports in the Financial Year 2020-21 was around USD 290.6 Billion compared to USD 313.36 Billion during the Financial year of 2019-20, which is a negative growth of about (-7.26%) which is fairly moderate given the prevailing global situation at that time.
The boom in e-commerce is only going to stimulate the Air Cargo market, and with the way in which the world has adapted during the time of covid with automation of its services, finding opportunities in the tough times, when there was no demand for their products people shifted to a market where there was demand and lower supply a few examples of that are The Textile industry started to manufacture masks and PPE kits, Vaccine companies quickly started to divert its attention for finding a vaccine for the problem at hand, chemical and pharma industries got involved in production of products for sanitization.
The coming year there has been a forecast of a Global recession, the industry probably will be hit but the Air Cargo industry should recover very soon cause looking at the way we have found opportunities in the toughest of times, this too shall pass…
FARDEEN MALBARWALA, DIRECTOR, GALAXY FREIGHT
To the youngsters starting off in this beautiful industry my only message is DREAM DREAM DREAM. I truly believe that this is India's century and logistics and supply chain play one of the most crucial part in a Nation's growth. The industry is set to boom and grow.