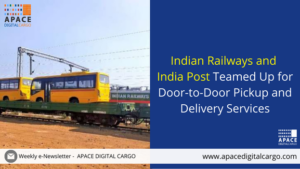 Indian Railways and India Post have teamed up in order to offer door to door pick up and delivery services of packages weighing over 35 kgs. This new service 'Rail Post Gati Shakti Express Cargo Service' is aimed at making the logistics process seamless specially for people who are planning to shift homes in India.
Delhi to Kolkata, Bangalore to Guwahti, Surat to Muzaffarpur and Hyderabad to Hazrat Nizamuddin are the four sectors these services are currently available in. To ensure efficient delivery, the Indian Railways and Department of Posts have upgraded their tools, machinery, handling equipment, and storage space. They have also developed specially designed boxes for packaging, such as fold-type boxes, envelope boxes, mesh-type boxes, and bubble guard boxes made of aluminium and lightweight materials. Furthermore, Parcel Aggregation Centers have been equipped with conveyor systems and specially designed rakes for efficient stacking.
The Indian Railways Door-to-Door Parcel Service offers several notable features, such as doorstep pick-up and delivery, flexibility in load quantity, time-tabled service, safe transmission, and insurance. Customers can avail themselves of this service by having India Post collect their consignment from their doorstep and transport it to the railway station. Indian Railways will then transport the goods from the station to the destination address, ensuring safe delivery at the addressee's doorstep. This service is flexible in terms of the quantity of goods to be transported, allowing for small loads as low as 100 kg.
Under the Joint Parcel Product (JPP) Scheme, the Parcel Train is a time-tabled train with scheduled departure and arrival times at originating, intermediate, and destination stations. Indian Railways provides intermediate transmission between origin and destination railway stations in secured sealed boxes to ensure safe and secure passage through time-tabled trains. Customers who use the JPP Service can obtain third-party insurance at a low cost of 0.03% of the cargo value from the Post Department.
To provide affordable solutions to customers, the first-mile and last-mile service charges are set at Rs 6 per kg, which offers competitive and cost-effective pricing when compared to existing road rates. Additionally, a mobile app is being developed to allow customers to book consignments with online payment facilities and track the status of their consignments with a live tracking facility.