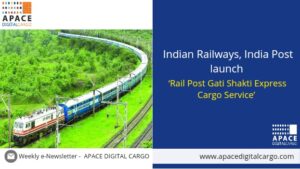 In agreement with the Gati Shakti Master Plan, to provide seamless solutions for the movement of parcels, Indian Railways and the Department of Post have collaborated and evolved a Joint Parcel Product (JPP) – Rail Post Gati Shakti Express Cargo.
This service would be in compliance with the Budget announced for the financial year 2022 and 2023. On 16th Feb 2023, it started on four sectors – Delhi to Kolkata, Bangalore to Guwahati, Surat to Muzaffarpur and Hyderabad to Hazrat Nizamuddin. Not just these four sectors, a total of fifteen sectors have been planned for the first phase. In order to implement this plan, initially 15 OD pairs of time tabled Express Cargo Service trains are finalised.
The main objective and focus of JPP model would be to provide an integrated service to the customers with the 'first and last mile service' for parcels being executed by the Department of Post and the middle mile transportation would be handled by the Railways. The unique selling point of this service would be palletization, time tables runs, end to end logistics service, single documentation, insurance cover, reliability, safety, availability and cost effectiveness.
Railways and the Department of posts have collectively upgraded their tools, machinery, handling equipment, and storage space for optimum use. Specially designed Fold type boxes, Envelope boxes, mesh-type boxes, and bubble guard boxes made up of aluminum and lightweight material have been developed. Similarly, Parcel Aggregation Centre has been equipped with a conveyor system along with specially designed rakes for efficient stacking. BTU Deck where palletized material can be easily rolled is provided for effortless movement.