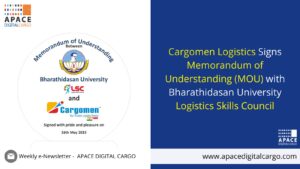 Cargomen Logistics, a leading Tier One Logistics Service Provider, announced the signing of a Memorandum of Understanding (MOU) with Bharathidasan University, Logistics Skills Council, a renowned educational institution known for its commitment to excellence and the pursuit of knowledge.
The collaboration between Cargomen Logistics and Bharathidasan University was penned on 16th May and marks an important milestone in the pursuit of excellence in teaching, learning, research, and knowledge extension. Through this partnership, both organizations aim to foster innovation, enhance skills, and contribute to the growth and development of the logistics industry.
As a TIER ONE Logistics Service Provider with certifications from AEO, IATA, MTO, and FIATA, Cargomen Logistics has firmly established itself as a trusted logistics partner in Singapore and India. With headquarters in Hyderabad and offices in major cities across India, the company is known for its efficient processes, leveraging cutting-edge technology to meet customers' logistics requirements.
The MOU with Bharathidasan University will pave the way for collaborative initiatives such as research projects, knowledge sharing programs, internships, and joint educational programs. This partnership will provide Cargomen Logistics with access to the university's academic resources, expertise, and research facilities, enabling the company to stay at the forefront of industry trends and innovations.
The partnership between Cargomen Logistics and Bharathidasan University exemplifies the importance of industry-academia collaborations in fostering innovation, knowledge transfer, and skill development. Together, they aim to create a symbiotic relationship that benefits not only the students and faculty but also the logistics industry as a whole.
About Cargomen Logistics:
Cargomen Logistics is a Tier One Logistics Service Provider with headquarters in Hyderabad, India. The company is certified as AEO, IATA, MTO, and FIATA, and is affiliated with over 5700 international logistics service providers in 765 cities and ports worldwide. Leveraging technology and efficient processes, Cargomen Logistics offers a wide range of logistics services and is committed to being a trusted partner for all logistics requirements.
About Bharathidasan University:
Established in February 1982, Bharathidasan University is named after the revolutionary Tamil poet Bharathidasan. The university's vision is to create a brave new world through excellence in teaching, learning, research, and the extension of knowledge. With a mission to promote scholarly inquiry, the university offers quality programs in teaching, research, and extension. Bharathidasan University's core values