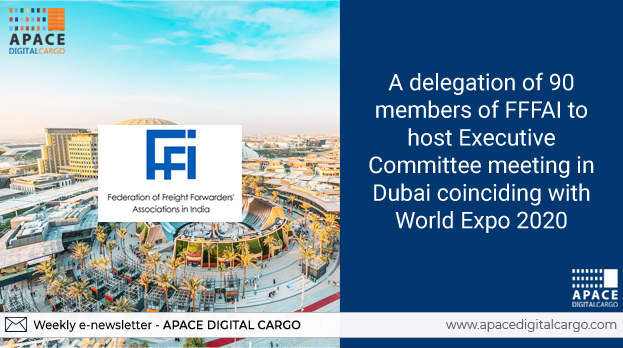 The Executive Committee of the Federation of Freight Forwarders' Associations in India (FFFAI) is hosting its 4th EC Meeting on March 23, 2022 in Dubai while participating in the World Expo 2020 in Association with the Federation of Indian Export Organisations (FIEO) organised event- 3rd Logix 2022 started on March 21, 2022. On this occasion, the three-day FFFAI delegation, which is being headed by Mr Shankar Shinde, Chairman, FFFFAI, would be having various meetings and conferences  including the Importance of India –UAE CEPA Agreement.
FFFAI Executive Committee Members include its 28 Member Associations representatives from across the country and would be taking delegation to represent the logistics sector
During the 3 days delegation there would be various business networking meetings organised with trade and Logistics Associations.
"The initiatives of FIEO –FFFAI in organising the delegation to the event for Logistics is very important as Logistics is the backbone of the economy and plays an important role in supply chain and cost effective solutions to boost the economy,"Mr Shinde pointed out.
The 3 Day Mega International Buyer Seller Meet LOGIX INDIA,  is an initiative focused at improving Cost effectiveness and operational efficiencies and to create an effective Trade logistic system. According to FIEO sources, the first two editions of the show which were held in New Delhi witnessed over 3000 B2B meetings. The past editions of the show had over 120 International delegates from over 24 countries and around 140 Indian Logistics, Warehousing & Shipping Companies. The show is aimed at exploring investment opportunities in infrastructure development, warehouse consolidation, technology integration, IT enablement & skilling of manpower. 3rd Logix India 2022 shall bring together people, processes, and technology together to create efficiencies in global supply chain logistics.
Currently India's logistics sector is highly defragmented and the aim is to reduce the logistics cost from the present 14% of GDP to less than 10% by 2022. Accordingly, Indian Government plans to spend USD 1.5 trillion in improving infrastructure and most of the investments will take place in improving airports, ports, roads and rail connectivity. Sizeable investments will also be made in AI, IoT and Big Data for transformation of the supply chain and logistics industry.
Organising the LOGIX INDIA 2022 in Dubai is very significant in view of the fact that the strategic location is a very strong transit point with all required logistics infrastructure and allied facilities. On the other hand, with the recent signing of INDIA – UAE FTA, the trade opportunities between the two countries are expected to grow at phenomenal pace. Trade is expected to touch USD 100billion in the next 5 years and most Indian items are now duty free to UAE.