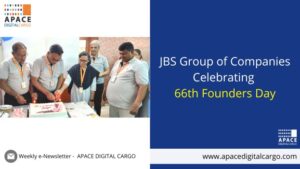 JBS Group of Companies estb. 1957 which operates all Freight Forwarding products incl Customs clearance celebrated it's 66th Founders Day on Monday 27th March 2023. It was a day of remembering the past; the journey of over 6 decades and a commitment for the future. The foundation and growth of entities – Jasvant B Shah, Star Freight Pvt. Ltd., JBS Academy Pvt. Ltd., were highlighted, followed by quality policy and concept of commitment and excellence at the institute.
The day began with a medical checkup of all the staff sponsored by the office. All medical reports of concern would be submitted to senior management who would individually talk to each to ensure better health.
Cakes were cut in all the offices preceded by lighting of the lamp. The office assistants were asked to light the lamp. This was followed by a ZOOM meeting of all group colleagues who shared wishes and experiences of the last year.
Mr Samir J Shah addressed the group and insisted with each to learn some new skill in the coming year. Partner Ms. Veena Shah is pursuing higher studies in Jainism and Partner Ms Bharati Shah is exhibiting her works across the globe and learning French. JBS Group believes in gender equality, whichwas made evident from the percentage of females employees in total staff. The work and commitment of star employees, who are the pillars of JBS Family, was recognized. The long-termrelationship with employees ranging from more than 35 years to new entrants was celebrated. The personal milestones in employee's life were even celebrated.