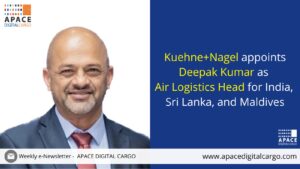 Kuehne+Nagel, a global logistics company, has named Deepak Kumar as the new Air Logistics Head for India, Sri Lanka, and the Maldives. According to a statement released by the company, Kumar will work closely with Kuehne+Nagel's air logistics team to capitalize on his extensive logistics experience and expertise in order to drive the growth of the company's business for this cluster.
Kumar has been with Kuehne+Nagel since 1999 and has played multiple roles during his professional journey with the company, most recently serving as the Region Head of South India for Kuehne+Nagel.
"Kumar has been associated with us for more than 20 years. It gives us immense pleasure to promote talent groomed within our organization for this crucial role," Coen Van der Maarel, Managing Director, Kuehne+Nagel India, Sri Lanka, and the Maldives said.
Commenting on the development, Kumar said, "It is always important to understand, align and evolve with the market dynamics along with a focus on developing and upskilling our talents to deliver the best possible service to our customers. I am excited to take on this new role and lead the AIR Logistics Business of Kuehne+Nagel in India, Sri Lanka, and the Maldives. This is a very exciting time to be working in the logistics sector from sustainability to innovation there is much to be excited about. I look forward to driving forward the contribution we make not just to the global economy but to our local community."