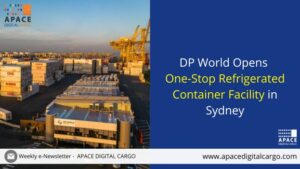 DP World has recently opened Reefer World, a new refrigerated container facility in Sydney, Australia. This facility is a one-stop shop that offers a range of reefer cleaning and repair services to customers in Australia and New Zealand.
It is the largest of its kind in Sydney and one of the biggest in Australia, providing various reefer solutions such as pre-trip wash, inspection, and structural repairs. The aim is to enhance efficiency and ensure the quality and freshness of perishable cargo that is delivered to destinations around the world.
With the opening of this state-of-the-art facility, DP World is doubling its capacity to supply empty reefers. The company can pre-trip and wash more than 100 reefer containers daily to capture the growing demand for exports from key markets such as Brisbane, Melbourne, Auckland, and Tauranga.
Reefer World's strategic location adjacent to the DP World Sydney Terminal ensures that customers have seamless access to end-to-end cold chain solutions and a quicker turnaround time through coordinated container movement, cleaning, repairs, customs clearance, and storage services. The mega logistics park in Port Botany is well-connected to motorways and has an on-dock rail siding, improving rail access into and out of the terminal.
DP World's investment in Reefer World is part of its ongoing strategy to grow and strengthen its operations in Australia. This announcement follows key investment and initiatives by DP World aimed at expanding its presence in the country.
Andrew Adam, CEO, DP World Australia, said: "As businesses continue to build greater agility, reliability and resilience into their supply chains, Reefer World will help to facilitate the timely and efficient flow of perishable goods, while addressing increased export demand in the region. Its completion further expands DP World's footprint as one of the largest container terminals and logistics park operators in Australia and cements our position as the go-to partner for customers requiring innovative, agile and scalable end-to-end logistics solutions."