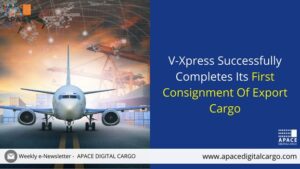 V-Xpress, a division of V-Trans India Ltd and a leading express cargo distribution company in the country, has achieved a major milestone by completing the custom bonded movement of its first consignment of export cargo from Bangladesh to Spain via Delhi International Airport. The company managed the entire cargo logistics process using its advanced fleet of vehicles equipped with 24×7 GPS tracking and double drivers.
The shipment, which comprised garments, was loaded onto a V-Xpress vehicle at the Petrapole border and transported to Delhi international airport, where it underwent customs clearance before being dispatched for onward delivery to Spain.
This successful operation is a testament to V-Xpress' unwavering dedication to providing top-notch logistics solutions that are reliable, punctual, and ensure the safe delivery of cargo. The company has invested heavily in state-of-the-art infrastructure, cutting-edge technology, and highly skilled human resources to tackle complex logistics challenges with ease.
Rajiv Bhattacharya, COO, V-Xpress said, "We are delighted to have successfully delivered the first export cargo consignment from our neighboring country to Delhi International Airport within the committed schedule hassle-free. This achievement is a testament to our team's dedication and hard and our focus on providing our customers with the best possible logistics solutions."