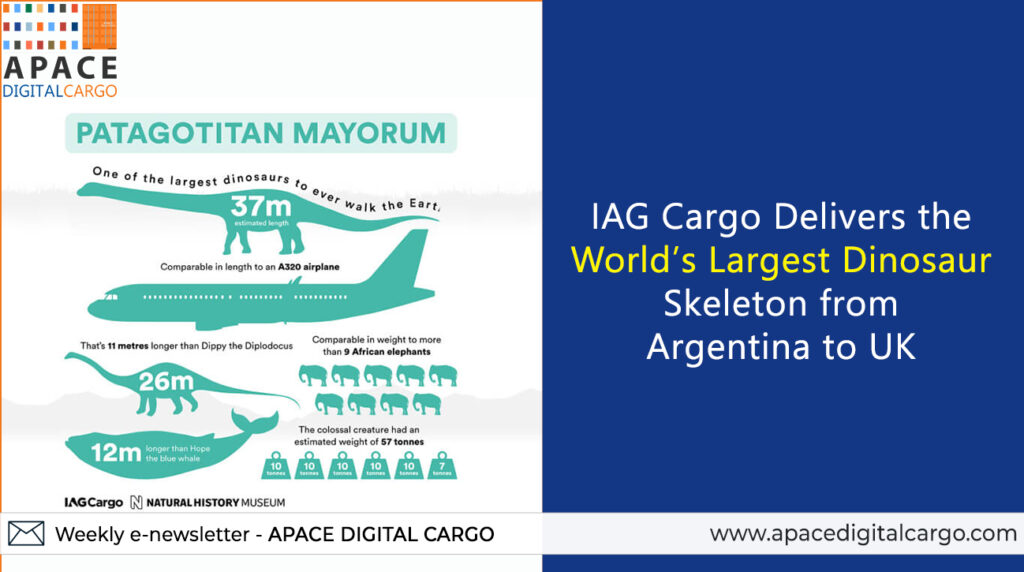 IAG Cargo, the cargo division of International Airlines Group (IAG), has successfully transported one of the largest dinosaurs ever discovered, the Titanosaur Patagotitan Mayorum, from Buenos Aires to London Heathrow. The titanosaur measures approximately the same length as a British Airways Airbus A320.
In November 2022, the Natural History Museum designated IAG Cargo as its official logistics partner for the upcoming exhibition "Titanosaur: Life as the Biggest Dinosaur." This will mark the first time the impressive titanosaur will be displayed in Europe after arriving in the UK.
The journey of the titanosaur started in Trelow, Argentina and passed through Buenos Aires before reaching London. To facilitate its transportation, the Patagotitan was disassembled into over 40 crates and transported on two British Airways B787-9 passenger aircraft. Upon arrival at London Heathrow, it was taken to a special facility before being reassembled for display at the Natural History Museum soon in March.
IAG Cargo, with its extensive experience in transporting high-value, unique, and precious consignments, ensured the safe and secure transportation of the titanosaur via its dedicated 'Secure' product, ensuring complete peace of mind, specially when it comes to such a fragile shipment.