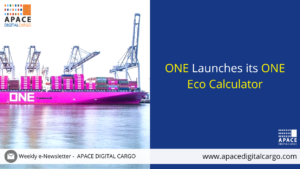 Ocean Network Express (ONE) announced the launch of the ONE Eco Calculator, which calculates carbon dioxide (CO2) emissions from ONE's operating vessels. The tool is one of the company's milestones in its journey to Net Zero.
The ONE Eco Calculator allows units to be represented in two ways: Tank-to-Wake (TTW) and Well-to-Wake (WTW). TTW measures emissions generated by burning fuel that has been stored in a tank, while WTW measures emissions produced during fuel production, delivery, and use on ships.
"As we strive towards decarbonization, ONE is on a continuous journey to encourage stakeholders to participate. Thus, the ONE Eco Calculator was developed not only for ourselves, but also for like-minded players and customers seeking sustainable transport solutions and seeking to manage their own cargo emissions." said Koshiro Wake, Senior Vice President of Corporate Strategy & Sustainability Department, Ocean Network Express (ONE).
Customers can opt for a greener service by utilising the ONE Eco Calculator, which furnishes them with information on total CO2 emissions and distance covered, including door locations, from the Place of Receipt to the Place of Delivery.