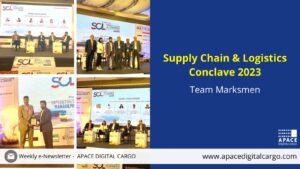 The recently concluded Supply Chain & Logistics Conclave 2023, organized by Team Marksmen Network, brought together industry leaders, experts, and visionaries to discuss and deliberate on the emerging trends, challenges, and opportunities in the supply chain and logistics sector. As media partners, Apace Digital Cargo had the privilege of attending this influential event and gained valuable insights into the best practices, innovation, and the way forward for this critical industry.
Opening Remarks by Sharad Gupta, Co-Founder of Team Marksmen Network:
He kickstarted the event with his enlightening opening remarks. He emphasized the significance of creating a sustainable supply chain and discussed various strategies to increase visibility across the supply chain.
Panel Discussion: Sustainability at the core of organisation's Supply Chain strategy. A focal point of the conclave was the interactive panel discussion that explored how the logistics and supply chain sector played a crucial role in India's journey towards achieving net-zero emissions and incorporating Environmental, Social, and Governance (ESG) principles into supply chain operations. Esteemed panelists, including Anil Syal, President, Safexpress Private Limited; Avinash Dhagat, Vice President Supply Chain, Honasa Consumer Ltd.; Kopal Agrawal, Chief Procurement Officer, Hindalco Industries Limited; and Shonik Goyal ,President & Head Supply Chain, Sheela Foam Limited; shared their insights and experiences. The session was effectively moderated by Neeraj Bansal, Co-Head & COO – India Global, KPMG India; facilitating an engaging exchange of ideas.
Factors driving excellence in supply chain at Colgate-Palmolive (India) : Sarala Menon (Bhaskaran), Executive Vice President of End-to-End Supply Chain at Colgate-Palmolive (India) Ltd, delivered an informative presentation in the leadership session. She shed light on the diverse demands of a world-class supply chain, highlighting the challenges faced by the industry and how their organization consistently demonstrated supply chain excellence and adaptability in testing conditions.
Navigating complexities of Logistics infrastructure and cross-border services, and a way forward : The next session delved into the evolving landscape of logistics infrastructure and cross-border services, discussing the challenges, complexities, and potential solutions. Vaibhav Vohra, Managing Director of Continental Carriers PVT LTD, shared his insights on the changing dynamics and outlined a way forward for the industry, emphasizing the need to ease complexities and embrace innovation.
Panel Discussion: Addressing talent gap in supply chain sector. Addressing the critical issue of talent shortages in the supply chain sector, an eminent panel consisting of Sanjay Gupta, Vice President – Corporate Procurement and Packaging Development, DS Group; Rajat Dhar, Head Supply Chain and Purchase, United Colors of Benetton India; Rajeev Mehta, Senior President and Chief Logistics Officer, UltraTech Cement; and Sanjeev Suri, Senior Vice President – Global Omni Channel Logistics & Customer Services, Amway India Enterprises Private Limited; engaged in a thought-provoking discussion. Rohit Saxena, Director – Supply Chain Transformation, PwC India moderated the session, focusing on skill development and the creation of value-added capabilities in the workforce.
Keynote Address by Dr. Pawan Agrawal: Renowned motivational speaker, Dr. Pawan Agrawal, captivated the audience with his high-octane session. He shared his personal success journey and provided valuable insights on overcoming challenges, fostering motivation, and unleashing the untapped potential within the supply chain industry. His engaging presentation left attendees inspired and equipped with practical strategies for achieving excellence.
Mitigating Risk and Increasing Transparency Across the Supply Chain : Anil Syal, President of Safexpress Private Limited, took center stage in a session dedicated to addressing risk mitigation and enhancing transparency throughout the supply chain. Drawing on his extensive experience, he provided valuable guidance on navigating potential risks and implementing robust measures to ensure supply chain resilience and efficiency.
Virtual Address by Dr. Surendra Ahirwar: Dr. Surendra Ahirwar, Joint Secretary, Department for Promotion of Industry and Internal Trade, Ministry of Commerce and Industry, Government of India, delivered a virtual address emphasizing the importance of integrating economic and infrastructural planning with development. His insights shed light on the critical role that supply chain plays in nation-building and industry growth.
The next generation of supply chain: Ankur Bhagat, Vice President & Chief Supply Chain Officer (CSCO), Procter & Gamble, led an insightful session on the future of supply chains. He explored the rapid changes and complexities faced by the logistics industry over the last three decades.
Final Panel Discussion: Building supply chain resilience through technology. Anirban Basu, Executive Director and National Logistics Head, Dalmia Bharat Group; Ankit Gupta, Customer Service and Order to Cash Lead, India, Mondelēz International; Rajasekhara Reddy Avthu, Group Head Supply Chain APMEA region, Apollo Tyres Ltd), Sandeep Kulkarni, Chief Supply Chain Officer, Tata CLiQ; and Uddhav Kumar, Co-founder and CEO, Lynkit; engaged in an invigorating conversation about the strategic response and future plans of shippers, technology providers, and third-party logistics (3PL) companies. The discussion was moderated by Mayank Mehrotra, Executive Director – Supply Chain Transformation, PwC India and offered valuable insights into harnessing digital solutions and strategies to drive operational efficiency and meet the evolving needs of the industry.
The Supply Chain & Logistics Conclave 2023 organized by Team Marksmen Network provided a platform for industry leaders and experts to collaborate, share insights, and shape the future of the supply chain and logistics sector. From sustainable practices and talent development to embracing digitalization and innovation, the event explored critical topics, leaving attendees equipped with knowledge and inspiration to drive positive change in their respective organizations. The conclave proved to be a remarkable opportunity to connect, learn, and lay the foundation for a more sustainable, efficient, and resilient supply chain ecosystem.