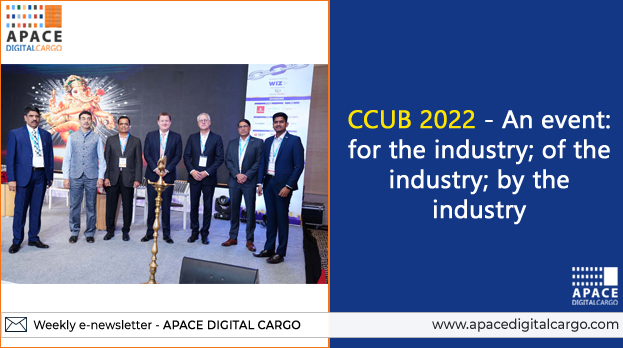 WIZ Freight, a full-stack digital cross-border supply chain start-up, hosted Cold Chain Unbroken 2022 in Hyderabad as an industry initiative. The event was inaugurated on the 15th of September 2022 in Hyderabad at the Novotel Hyderabad Airport by Shri. Jayesh Ranjan, Principal Secretary, Industries & Commerce, and Information Technology, Government of Telangana, who was the Guest of Honor. Mr. Anil Agarwal, President, FTCCI, also attended the inauguration of the Cold Chain Unbroken 2022. The event focused on patient safety and brought together all the key decision makers to discuss and formulate a strategy to fix the gaps in the supply chain.
During his address to the industry, Mr. Ranjan said, "This is the best time to re-group, understand the advancements taking place on the technology frontier as well as the last mile delivery frontier; how policies need to be formulated and how the industry needs to be supported. It gladdens my heart that the industry is taking an ecosystem approach to the event, because eventually in Telangana, it has become a part of our DNA to bring all partners on board, sharing responsibilities and leadership."
At the event, SkyCell AG, a Switzerland based hybrid container manufacturer launched their 1500X series container for the first time in India. Mr. Marrie Groeneveld, Advisor to the Board at SkyCell AG, explained the features of the product to Shri. Jayesh Ranjan.
The event was attended by about 300+ delegates from 10+ countries networking together with 50+ speakers & 20+ Sponsors & Exhibitors under one roof for two days to discuss and network with each other. The event has attracted the industry stakeholders who have actively participated in the event in multiple roles. Prominent Airlines such as Turkish Cargo, Emirates SkyCargo, Qatar Airways and Shipping lines such as, ZIM, MSC, CMA CGM, etc attended the event.
The two day event covered business sessionsfor the areas that require attention from the industry.Action plan to prepare the cold chain industry for the current situation and what lies ahead was deliberated by industry leaders.
These sessions covered a wide range of topics, such as Airport Infrastructure, Dangerous Goods Legislation, the need to learn more about IMO 2023, Agro Cold Chain Initiatives, Active and Passive Packaging, Challenges faced by the End-user due to counterfeit medicine, and Control Tower.
Shri Jayesh Ranjan addressed the industry on the topic "Infrastructure Augmentation for Pharma and Perishable Handling at Indian Air Cargo." for the white paper, which he wants the industry to work on. Cold Chain Unbroken has taken the initiative to work on the same.
IMO 2023, Control Tower, and Dangerous Goods are unique topics, yet they are vital for the industry to discuss and deliberate on, which was done efficiently by the panelists. The two-day event was concluded with numerous takeaways and action points for the industry to consider, work on, and conclude, on which WIZ has committed to working.