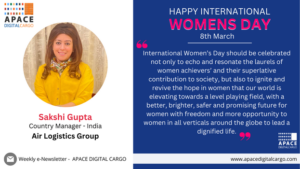 As we celebrate International Women's Day, it's important to reflect on the challenges that women in the cargo and logistics industry face, as well as the progress that has been made. Women have made significant contributions to this industry, but there is still a long way to go. In this Women's Day series, we will hear from women who are working in this field and gain insights on how we can celebrate and honour their achievements, address the challenges they face, take advantage of opportunities created by digitisation, and inspire young women who are interested in pursuing a career in this industry. We will also hear from these women about their personal experiences and journeys in the cargo and logistics industry.
Starting the series with Sakshi Gupta, Country Manager – India, Air Logistics Group, who believes that a woman is a full circle and within her is the power to create, nurture and transform. Here are the excerpts-
1. How do you think we can celebrate and honour the achievements of women in the cargo and logistics industry on International Women's Day, and throughout the year?
'Eve' is the mother of all human race and we must celebrate the essence of womanhood everyday, in every sphere of life! I remember a lovely quote by Diane Mariechild- "A woman is a full circle, within her is the power to create, to nurture and transform." which aptly depicts the pivotal role and potential a woman has, to bring about a transformation in any given field, be it logistics.
International Women's Day should be celebrated not only to echo and resonate the laurels of women achievers' and their superlative contribution to society, but also to ignite and revive the hope in women that our world is elevating towards a level playing field, with a better, brighter, safer and promising future for women with freedom and more opportunity to women in all verticals around the globe to lead a dignified life.
2. Can you share your journey with us at Air Logistics Group, any challenges you've faced as a woman working in the cargo and logistics industry, and also, how did you overcome them?
Honestly, anyone, be it man or woman, choosing logistics as a career, comes prepared to take on the headwinds and challenges our industry brings. Being a working woman is never a smooth takeoff or landing, as to play musical chairs, juggling between work and family, fulfilling all commitments as an entrepreneur, as a mother, a wife and a daughter and to strike the right balance has been the biggest challenge most Indian women have been facing since eons. To be heard and to be followed by your male counterparts and cross over the speed breakers enroute – You need be full of passion, have a drive to achieve, be resilient, conduct yourself calmly but firmly, believe in yourself and move forward with conviction. Don't shy to admit and learn from your mistakes, be humble and encourage and applaud other women…All these definitely in bold will be your ace strokes for life which will help all women to succeed and attribute to make them not only winners but to lead by example by being a role model for other women
So if you wish to grow, don't think about challenges, instead explore the abundant opportunities logistics has to offer. Remember we are the problem solvers, the caring and compassionate ones, the creative and committed ones. So, use these qualities which naturally come to a woman to leverage and lead. On a personal front coming from a non cargo background, I never envisaged myself being in logistics. I was very skeptical on the onset, but once I was here it was a feeling of Eureka, an adrenaline rush, a joy, which spelt – 'Yes , cargo it is!!' I felt as if this was what I have been cut out for, like a perfect shoe fit. Till date, I have this excitement brimming within me, which pushes me to surge forward, to go the extra mile, to have an eye for detailing, a hunger to learn and to get involved in each and every field even if its not in my purview.
I look forward to a Monday morning…which I guess is self explanatory to what logistics brings on the table for me. It's just that I would be restless and not sleep till the work is not done. Yes, I'm quite a fanatic as far as work is concerned and it does get bothersome to my family and colleagues at times, but thats me. Having basic intelligence, prudence, an analytical mind and a go-getter attitude are the absolute keys to success. Having said that I would like to emphasise that all this was possible thanks to our Air Logistics Group family who let me mingle and blend in their colourful logistics palette, beautifully, Air Logistics Group has a diverse and inclusive outlook, an equitable platform that not only supports and mentors you but also empowers you and gives you insights and impetus to explore and evolve and then of course I strongly believe its your hard-work and integrity which Mother Nature is watching over that helps you grow.
It is time to BE the change and BRING the change and MAKE THE INVISIBLE, VISIBLE
3. What advice would you give to young women who are interested in pursuing a career in the cargo and logistics industry?
Logistics is Terrific!! It's so addictive, has such a magnetic pull to it and at the same time so rewarding in-spite of being challenging and stressful. So if you have the zest and zeal, the energy, the mettle to believe in yourself and standby your convictions, if your hungry to learn, you have an open mind with a data driven approach…this is the place to be. My two cents to the young aspirants who are toying with the idea whether or not to joining the cargo trade would be.
Wear your confidence just like a badge of honour and move ahead with grit and grace. Be a team player, Motivate your colleagues and work along. IT'S NOT A ONE MAN SHOW, IT NEVER WAS AND NEVER WILL BE! Just have an eye for detailing, chisel your business acumen, keep learning, and follow your gut; ultimately success would follow! In the end, women need to break their own barriers, which are their blocked minds and step out of their cocoon, spread their wings as the Logistics sector has many verticals to offer. So, get drenched in the Logistics fountain, there is lots to learn and grow here!
 To all STRONG WOMEN – may we know them, may we be them, may we raise them !!!!!!