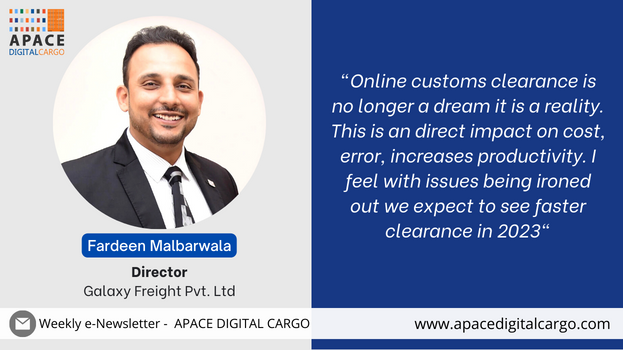 Continuing our #LogisticsTrends2023 series, we have insights from the Director of Galaxy Freight Pvt.Ltd, Fardeen Malbarwala, who believes that sustainability should not just be a trend in 2023, but a responsibility towards the future. Following are the excerpts:
What was the greatest trend in the logistics industry in 2022 according to you?
2022 was in many ways was about getting out of covid. Getting back to office and no more work from home was the start of 2022. It involved a lot of travel, we had to catch up for the time lost in 2021. In many ways we had to unlearn 2021 and start fresh in 2022. In terms of the industry freight rates settled down, space in the sea world settled down one could get containers when required at a more or less predictable transit time which was a big relief. But the greatest trend in 2022 was we were FACE to FACE again and no longer meeting online.
According to you, what are the milestones achieved for the industry in 2022? 
National Logistics policy is the single biggest Milestone of 2022.
With the digital transformation in the logistics industry, technology has reshaped the industry by increasing productivity in the supply chain and reducing costs and errors. What is your opinion and how will it take shape in 2023?
In today's day and age if you do not believe in the power of technology, chances of survival are very less. I have seen a huge digital transformation in the customs systems in 2022 we saw everything go online and the efforts which were previously put in really mature and deliver results. Online customs clearance is no longer a dream it is a reality. This is an direct impact on cost, error, increases productivity. I feel with issues being ironed out we expect to see faster clerance in 2023.

How do you see the government intervention in the sector? What are the expectations? 
The fact that we have an national logistics policy, Customs really pushing for reduced dwell time, many initiates such as SWIFT, AEO etc being rolled out, India signing various world treaties (big one for 2022 was Australia ) means the government is definitely keen on the sector and wants to support it to grow. I anticipate with better infrastructure, the logistics costs will definitely go down and speed of movement of goods will go up.
Will sustainability be the trend for the industry? 
It is everyones RESPONSIBILITY, we owe it to the future generation, not just 2023 but for years to come it will be the most talked about and most important subject. We are not far away from a time when shippers choose an option which has the lowest Carbon emission.
What is the Outlook 2023 for the logistics industry?
Globally it is looking bleak, the truth of the matter is we live in confused times, no one is sure how covid will take shape, just when we feel it is a subject of the past you hear news of a new variant, cities being shut down in China and so on, There is enough written about a recession looming, we are living in times of a WAR. I am sure 2023 will have its own set of challenges and opportunities. one thing i have learned is we as an industry as like blood flow, goods always need to be moving.