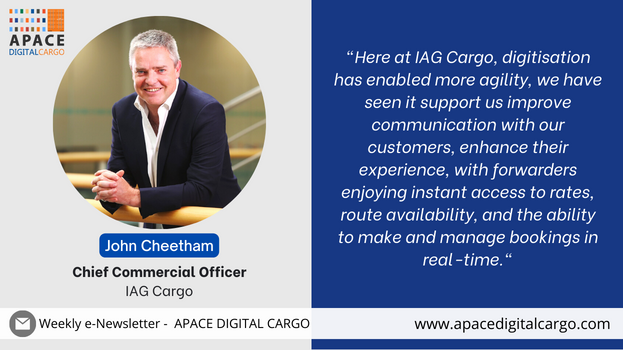 Continuing our #LogisticsTrends2023 series, we have insights from John Cheetham, Chief Commercial Officer, IAG Cargo​, who believes that digitalisation has been one of the most important business trends in the recent years. Here are the excerpts:
What was the greatest trend in the industry in 2022 according to you? 
 It was great to see regularity return to our schedules in 2022 as the aviation industry recovered from the pandemic and passenger flying returned. For us, 2022 was a year of transformation – with sustainability, digitalisation and expanding our network being key trends for the industry.
What are the milestones achieved for the industry in 2022?
With regards to milestones, we have re-started and launched several new routes over the year and increased frequency on important trade lanes between Europe, UK, North America, and Asia – we're now offering more transatlantic capacity than in 2019. Looking at IAG Cargo's 2022 / 2023 winter schedule between London-Heathrow and India, today it is larger than pre-pandemic. The schedule is up 8% on weekly flights between India and the UK compared to 2019. Furthermore, we remained focused on reducing our impact on the environment and in 2022 we partnered with customers to source over 10 million litres of SAF to reduce their customers' supply chain emissions on a net lifecycle basis by approximately 24,400 tonnes of CO2.
With the digital transformation in the logistics industry, technology has reshaped the industry by increasing productivity in the supply chain and reducing costs and errors. What is your opinion?
There is no doubt that digitalisation is one of the most important business trends of recent years. Here at IAG Cargo as well as enabling more agility, we have seen it support us improve communication with our customers, enhance their experience, with forwarders enjoying instant access to rates, route availability, and the ability to make and manage bookings in real-time.
Data has always been closely linked with digital transformation, because of our digital-first approach we've been able to lead with insights, our data-driven strategies are allowing us to communicate with our customers more efficiently. From the data we receive we've been able to improve the support we give to our customers, whether that is regional information, targeted offers or the ability to reach new customers.
Will sustainability be the trend for the industry? 
Sustainability is an incredibly important topic for the industry and will grow in significance over the coming years. Our partnerships are instrumental in supporting driving change and in 2022, we worked alongside long-term partners, Kuehne + Nagel, and Bollore Logistics, to reduce supply chain emissions through the purchase of Sustainable Aviation Fuel.
We've also been advancing our sustainability strategy in our ground operations as well as in the air with the trial of our first electric terminal vehicle operating airside at London-Heathrow, with the ambition to replace all current terminal vehicles in the near future. In Q4 2022 we partnered with Verpa Folie to trial their new sustainable film for wrapping cargo, this solution is 100% recyclable and biodegradable by landfill benefiting global customers. Adopting sustainable practices is incredibly important to us and our business, and we are proud to have made some significant changes last year.
What is the Outlook 2023 for the logistics industry?
We want to streamline accessibility to booking IAG Cargo capacity online. As well as customers being able to book on IAGCargo.com, we have multiple access points through third party platforms, which allow customers to find us easily, and book with convenience and speed. Additionally, our new Chief Digital and Information Officer, David Walker, has been leading a series of process changes to allow us to best utilise capacity through more robust weight and dimensional measurements, that we're excited to enhance in 2023.