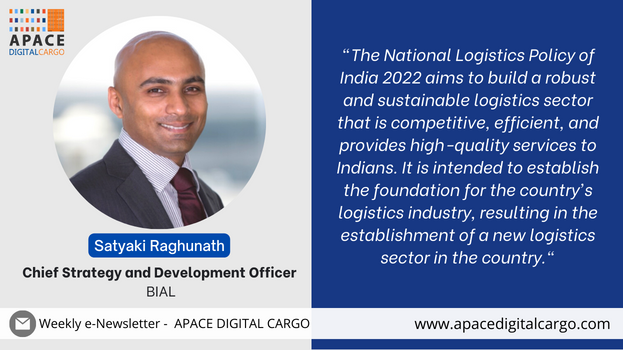 Continuing our #LogisticsTrends2023 series, we have insights from Satyaki Raghunath, Chief Strategy and Development Officer, Bangalore International Airport Limited (BIAL), who believes that in the coming years, we will see more usage of cutting-edge techniques in order to boost sustainability and profitability. Here are the excerpts:
What was the greatest trend in the logistics industry in 2022 according to you?
Digital transformation / adoption of technology has been the single biggest change in the logistics industry over the last few years. In any industry, digital transformation helps to identify new potential efficiencies, and it opens the door to significant environmental savings. For example, at BLR Airport, one of the key digital initiatives is the Airport Cargo Community System (ACS) that has been implemented at the common-user cargo terminals of BLR Airport. It is an electronic platform for digital interactions between airport stakeholders such as shippers, freight forwarders, customs brokers, custodians, cargo handlers, airlines, transporters, consignees, and Customs. It is a seamless medium for the cargo community to track their shipments through the Airport. This eliminates the need for paperwork across both terminals. Since ACS went live, we have been able to save around 80 trees per month due to the reduction in papers used.
Another key initiative is the introduction of the dedicated Airport Truck Management Facility (ATMF). It is India's first 'on airport' truck management facility with 250 parking slots that is managed and operated by Shell. The ATMF facility enables cargo supply chain partners to arrive at the cargo terminals on a timely basis after being slot at entry, thereby reducing land-side congestion, and processing time and consequently boosting terminal throughput. The semi-automated facility enables hassle-free truck movement in and out of the cargo terminals. At BLR Airport we have been opting for new technological innovations and have constantly upgraded and invested in such technologies. So, overall, when we look at the industry, technology and digitisation have enabled shippers and exporters to monitor their goods and logistics without relying on, paperwork, and red tape. The use of real-time data is helping make processes more efficient.  Further, logistics businesses will leverage technology such as artificial intelligence, cloud, automation, robotics, blockchain, big data, and IoT. Automation of the material handling process will also likely play a significant role in the future.
According to you, what are the milestones achieved for the industry in 2022? 
The Indian logistics sector has undergone substantial changes in the past five years, ranging from government initiatives such as the National Logistics Policy of India 2022 to recent innovations in the sector. The National Logistics Policy of India 2022 released by the Hon. Prime Minister marks an important turning point in India's logistics path as it is the first policy document to provide an in-depth look at the logistics sector and its role in the country. India, being a huge consumer of goods, it is crucial to maintain a strong logistics industry in the country. The policy is the government's attempt to attain that goal.
The National Logistics Policy of India 2022 aims to build a robust and sustainable logistics sector that is competitive, efficient, and provides high-quality services to Indians. It is intended to establish the foundation for the country's logistics industry, resulting in the establishment of a new logistics sector in the country. The policy is also intended to aid the development of a competitive and efficient logistics sector.
With the digital transformation in the logistics industry, technology has reshaped the industry by increasing productivity in the supply chain and reducing costs and errors. What is your opinion and how will it take shape in 2023?
Logistic companies are going to leverage technologies like artificial intelligence, cloud, automation, robotics, blockchain, big data, and loT to provide smart and innovative solutions to their customers. Vulnerabilities in the landscape of supply chain management have made digitisation a necessity. The incorporation of digital technologies into supply chain activities will upgrade productivity in this sector.
At BLR Airport, we have introduced several technological innovations to provide world class services to our stakeholders. The IoT technology provides shippers and agents real-time temperature data of the shipment from the time it leaves the warehouse to the point it is loaded onto an aircraft at BLR Airport. The sensor, attached to each SKU, box, or pallet tracks the product's temperature, at every step of the journey. Shippers and agents can monitor the end-to-end health of their product through a central monitoring dashboard via a web or mobile interface. The temperature data gathered from the sensors can be used to create valuable insights on efficient operations and resource management leading to improved customer service. IoT-based sensors capture other critical product parameters and instantly send SMS and / or e-mail alerts. Remote temperature monitoring also allows companies to enhance visibility of the product and meet regulatory compliance. This is just one example of the new technology that has been adopted as part of our processes at BLR Cargo, in addition to ACS and ATMF.
Will sustainability be the trend for the industry? 
With more consumers preferring to shop from platforms that implement sustainable measures, we expect the logistics and supply chain industry will place a greater emphasis on sustainability in 2023.  According to an 'Ask MIT Climate' paper titled 'How can carbon emissions from freight be reduced?' Freight transportation makes up 8% of global greenhouse gas emissions. It is predicted that carbon emissions may double by 2050 in this sector. Hence, the industry is now integrating sustainable practices that will have a substantial positive influence on the environment. With modern delivery-linked checkout, route optimisation, automated shipping, and fleet optimisation solutions, CO2 emissions can be greatly reduced.
During the Covid pandemic, technology played a critical and wise role in streamlining company procedures and attaining operating efficiency that was less of a strain on the environment. In the coming year, we will see more usage of cutting-edge techniques to boost sustainability and profitability. At BLR Airport, we have always practised being a sustainable cargo terminal. The introduction of Airport Cargo Community System (ACS) is one of our key sustainable initiatives. ACS eliminates the need for paperwork across both terminals and since ACS went live, we have been able to save around 80 trees per month i.e., more than 3,17,000 sheets of paper every month.
What is the Outlook 2023 for the logistics industry? 
Trends for 2023 are still taking shape in the logistics industry. While 2022 witnessed a favourable rise, industry players are treading a safe path observing global trends closely, especially the trends of the US economy. Trends in the air freight industry are always evolving and shifting. However, with Covid-19, the industry has leaned more towards a complete digital transformation. It's a shift that BLR Airport has effortlessly adopted and has simplified processes for not just its own teams, but also for its partners and external stakeholders. While this has been a conscious effort in our progress, our existing partnerships have strengthened and with new partners coming on board, we are confident or being resilient and prepared for the year ahead.  We believe we are equipped to handle any ups and downs in air cargo flows. If we look at the overall picture, business activities in the industry are predicted to support the growth momentum of the Indian logistics sector in FY2023.