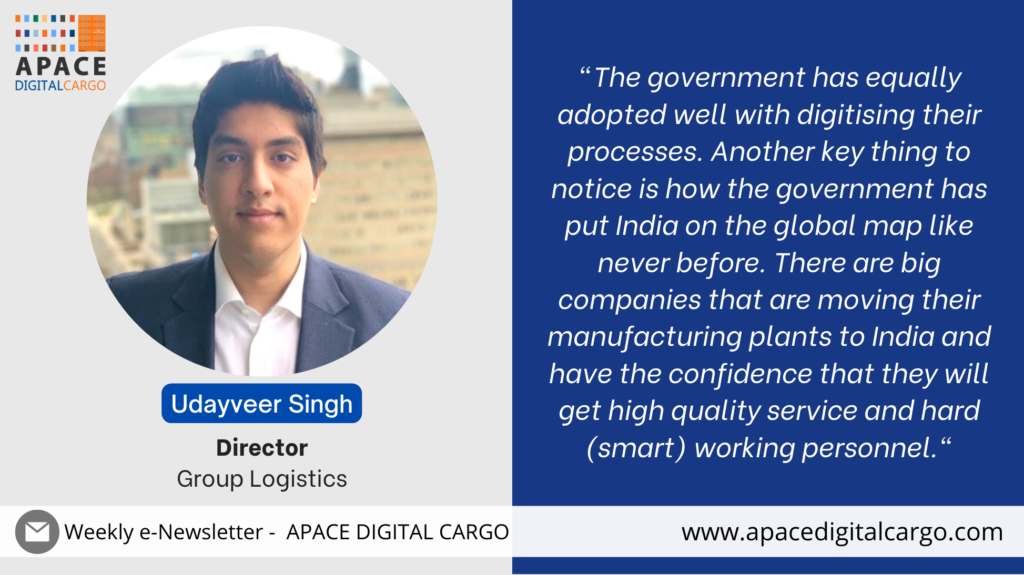 Continuing our #LogisticsTrends2023 series, we have insights from Udayveer Singh, Director, Group Logistics, who believes that the rapid adoption of digitisation has been the greatest logistic trend of 2022. Here are the excerpts:
What was the greatest trend in the logistics industry in 2022 according to you?
I definitely think the rapid adoption of digitisation over the last year, which has been brewing for 3-4 years now, has been the greatest trend for our industry. Along with this, the fact that big industry events like WCA, NAP or TIACA and many others have come back strong to get all stakeholders together face to face. It's the perfect balance between digitisation and in person interaction.
According to you, what are the milestones achieved for the industry in 2022?
The support from the government in the form of National Logistics Policy as well as digitising slow moving processes like customs clearance have helped the industry tremendously.
With the digital transformation in the logistics industry, technology has reshaped the industry by increasing productivity in the supply chain and reducing costs and errors. What is your opinion and how will it take shape in 2023?
Over the last 5-7 years, there has been a big push for digitisation but due to heavy investments required for it, only a certain few were able to push through with it. However, this is not the case anymore, there are more than enough companies that are purely offering digital services that can fulfil the needs of traditional freight forwarders without them pivoting their entire model to that of a tech company.
How do you see the government intervention in the sector? What are the expectations?
As I mentioned before, the government has equally adopted well with digitising their processes but another key thing to notice is how the government has put India on the global map like never before. There are big companies that are moving their manufacturing plants to India and have the confidence that they will get high quality service and hard (smart) working personnel.
Will sustainability be the trend for the industry?
Sustainability should not just be a trend for our industry but a necessity. It is both at a macro as well micro level. Companies need to make policies for a greener future and individuals need to believe that each person is responsible for making these policies achievable.
What is the Outlook 2023 for the logistics industry?
The thing about our industry is that it is ever changing and very dynamic. For me to say how the industry will shape is very difficult but what I do know is that the people in this industry are extremely positive, hard working and resilient to whatever may come our way because at the end of the day, everything and everyone needs to move from one place to another and that will never stop.