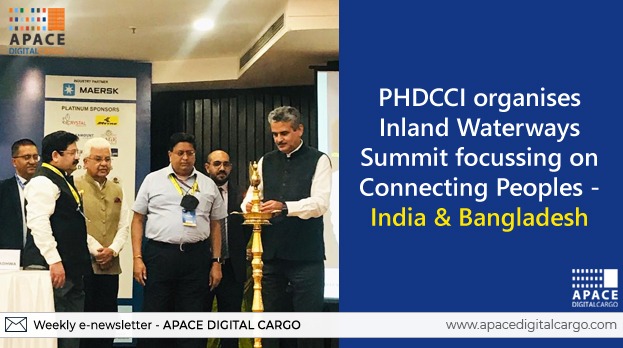 PHD Chamber of Commerce and Industry (PHDCCI) organised Inland Waterways Summit yesterday at India International Centre, New Delhi focusing on "Connecting Peoples – India and Banglalesh". Addressing the senior members and industry stakeholders at the Summit Dr Sanjeev Ranjan, Secretary, Ministry of Ports, Shipping and Waterways (India), said that Waterways turns out to be faster, cheaper, sustainable and more eco-friendly than other modes of transport and the government has worked hard to ensured that all the policies glitches which existed in the inland waterways have all been out in place for smoother trade transactions between India and Bangladesh.

Sanjay Bandopadhyaya, Chairman, Inland Waterways Authority of India stated that revival of historical river linkages between India and Bangladesh are also in line. Main objective is to improve the regional trade potential through Inland Waterways in South East Asian countries. Commodore Golam Sadeq, Chairman, Bangladesh Inland Water Transport Authority, said that India & Bangladesh are natural partners. He mentioned that since 2001, 40 per cent trade volume has been increased and a lot more to be expected in the coming future with major focus on cruise facilities to promote tourism between both the countries.
Representing the industry side, Akshyat Bhatia, Head of Multimodal, AP Moller-Maersk, through his presentation elaborated on the end to end solutions provided to a vast array of their clients. Through the presentationhe touched upon some of the major challenges posed by the sector like drastic traffic through Benapole- Petralope, creating a bottleneck, posing a great harm to the Bangladeshi importers .
Pradeep Multani, President, PHDCCI, mentioned that India's modal share of freight moved on inland waterways has significant potential to improve compared to other best in class benchmarks. It is imperative to increase share of the country's inland waterways as they are highly economical and an eco-friendly mode of transport. Sandeep Wadhwa, Chair, Logistics Committee, PHDCCI, stated the fact that 8480 kilometres of the navigable waterway of Bangladesh could be utilised for transportation and distribution of goods between Bangladesh, India, Nepal and Bhutan which could anchor robust business relations through the optimal and holistic development of the ecosystem of waterways.
Regular movement of cargo through waterways will also create job opportunities and open the international market for local products through cost-effective transport.
Dr. Yogesh Srivastav, Assistant Secretary General, PHDCCI, presented a formal vote of thanks and moderated the session.