"BLR Airport is equipped to handle smooth processing of vaccines"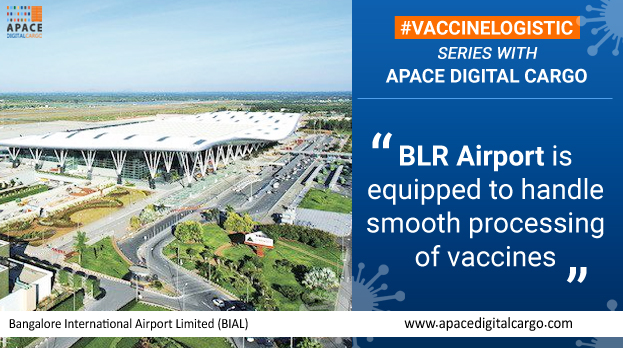 India has started rolling out Covid-19 Vaccine from 16th January, 2021 and so the air cargo industry has geared up for the logistics and distribution of the same. It has brought pressure on the industry due to prevailing logistics challenges and at the same, opportunities too. Bangalore International Airport Limited (BIAL) discussed exclusively with APACE DIGITAL CARGO, about the current situation and how the airport is preparing itself for the handling of vaccines. Excerpts –  
Bangalore Airport has consistently shown positive growth in cargo. In December 2020, the airport processed 33,053 Metric Tonnes of cargo and this is the highest amount of cargo ever processed at the airport in the month of December since its operations commenced in 2008. Now when it comes to handling vaccines, the airport claims to have a state-of-the-art infrastructure. "BLR Airport is equipped to handle smooth processing of vaccines, thanks to our state-of-the-art infrastructure with a temperature-controlled cargo terminal capacity of 60,000 Metric Tonnes Per Annum (MTPA) and 25 dedicated cold storage rooms with adjustable temperature ranges from -25 to +25 degree Celsius. The Good Distribution Practices (GDP) Certification for BLR Airport demonstrates our commitment towards efficient cargo operations," stated BIAL.
When asked about the role of logistics in the distribution of vaccines and the key strategy to be adopted, the airport commented, "The global distribution of COVID-19 vaccines is one of the largest logistical challenges ever faced by the transportation and logistics industry. Along with a multitude of stakeholders involved in the global distribution chain, the aviation industry has a key role in facilitating the rapid and safe delivery of large volumes of doses of these vaccines and other medical equipment needed for the vaccination campaigns." "Airports play a central role as gateways for incoming and outgoing shipments of vaccines and equipment. As an Airport operator, BIAL is primarily responsible for facilitating and coordinating activities related to this logistics process taking place at the BLR Airport premises," it added.
Every logistics move comes with the challenges and vaccine logistics is not an exception. Serving the population of 1.3 billion brings many challenges. According to BIAL, temperature excursions, lack of adequate infrastructure such as cold chain, cargo supply chain, transparency about the condition of the shipment, availability of cargo space and transportation from port to delivery points are key challenges that need to be addressed. Apart from cold chain and supply chain issues, India would need to prepare and train the health workforce, deploy digital tracking systems, ensure safety surveillance protocols are in place and undertake community preparedness activities. "Vaccines that are being developed are administered in two doses, which means there would be a continuous inflow of vaccines. This demands efficient processing of the vaccines," stated the airport operator, adding, "The Government of India is working to ensure that the gaps in the supply chain are addressed through effective delivery channels until the point of consumption. However, the onus will also be on teams working at the last mile to ensure that the vaccine is managed as per the logistics guidelines provided by the vaccine manufacturers."
With challenges come opportunities and this vaccine distribution brings lots of hopes for the air cargo industry. BIAL believes the movement of the vaccine will help the cargo industry as this life saving drug is in demand across the globe on an urgent basis and air cargo is the only mode of transport that can address such delivery timelines. As stated by IATA, a large amount of freighter space would be required for this vaccine delivery. "During the pandemic, air cargo volumes have witnessed a faster recovery, as compared to passenger traffic. This recovery is largely due to the transport of essential supplies, especially that of pharmaceutical and medical equipment. BLR Airport has seen a positive trend in 2020, becoming the only Airport in India to reach 100 percent of the previous year's tonnage for four consecutive months on a y-o-y basis, from September to December 2020. This is largely due to improved connectivity and an increase in Passenger to Cargo (P2C) aircraft, combined with proactive measures by Bangalore International Airport Limited (BIAL) — the operator of BLR Airport," concluded BIAL.