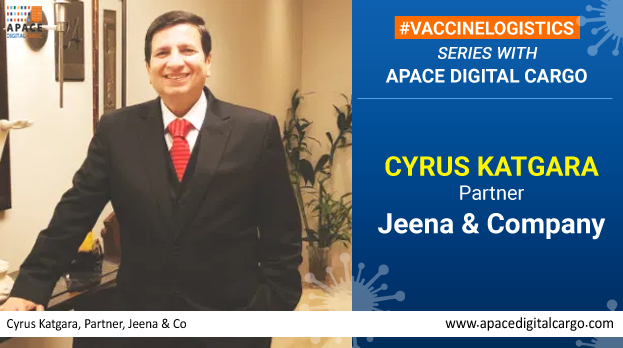 "Ultimate goal is to ensure availability of vaccines from manufacturer to service-delivery levels"
As the cargo fraternity is prepared for the distribution of vaccines, one of the veterans of the industry Cyrus Katgara, Partner, Jeena & Company  talks exclusively with Apace Digital Cargo about the role of logistics to ensure effective distribution of vaccines, the prevailing challenges and how to cope up with them and the opportunities lies ahead. Excerpts – 
How do you define the role of logistics in the distribution of vaccines? What should be the key strategy? 
The role of the logistics is to ensure effective vaccine storage, handling and stock management; rigorous temperature control in the cold chain; and maintenance of adequate logistics management. The ultimate goal is to ensure the uninterrupted availability of quality vaccines from manufacturer to service-delivery levels, so that opportunities to vaccinate are not missed because of unavailability of vaccines. The key strategy will be to digitally monitor storage, transportation facilities with proactive solutions as the margin of error will be zero.
What challenges do you see in the vaccine logistics to serve the population of 1.3 billion?
When the covid-19 pandemic began spreading, India, like most other countries, was left scrambling for protective gear and medical equipment to manage the crisis. As the world prepares itself for the launch of vaccines that will bring the pandemic to an end, India is better prepared at least on one count. As the world's leading vaccine manufacturer and with the approval of 2 'Made in India' vaccines, India has better access to vaccines than many other parts of the developing world however distributing the vaccines in India's first mass adult vaccination drive might prove to be a daunting task. It will require expansion of India's existing cold chain capacity at a break-neck speed, especially in some of the more densely populated parts of the country, where such infrastructure is severely limited. It will also require addressing gaps in India's existing vaccine distribution network, which a health ministry report flagged a couple of years ago.
Do you consider it as an opportunity for the revival of the cargo industry?
Yes, it will certainly help revive the air cargo industry as the potential size of the delivery is enormous. By providing the mandatory 2 doses to 7.8 billion people globally would fill approx 15,000 747 cargo aircraft. Land transport will help, especially in economies with local manufacturing capacity like India but vaccines cannot be delivered globally without the significant use of air cargo. Even if we assume that half the needed vaccines will be transported by land, the air cargo industry will still face its largest single transport challenge ever.