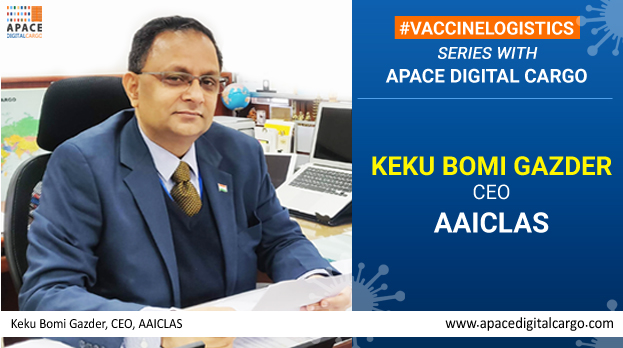 Keku Bomi Gazder, CEO, AAICLAS, in an exclusive interview with Apace Digital Cargo, stated that the quick and efficient transportation of vaccines can only happen with careful planning led by government and industry stakeholders.  Furthermore, he discussed in detail about the challenges and opportunities associated with distribution of vaccines. In order to roll out of Covid-19 vaccine in India, AAI Cargo Logistics and Allied Services Company Limited (AAICLAS) facilitated vaccine transportation — right from storing, loading and unloading vaccine shipments in and out of the airport from Pune to the designated 41 airports. 
How do you define the role of logistics in the distribution of vaccines? What should be the key strategy? 
The supply chain & logistics industry will play a key role in the distribution of vaccines at this time through an established country-wide time & temperature sensitive supply chain and distribution system. This capability will be crucial for the quick & efficient transportation of COVID-19 vaccines, which can only happen with careful planning, led by governments and multilateral organizations, and supported by industry stakeholders. 
Both the infrastructure and resources will be critical as the country prepares themselves for this massive "Niramaya Sewa" project. For us the supply chain stakeholders, the strategy & focus is to jointly plan and execute a country wide delivery mechanism for this exercise.
What challenges do you see in the vaccine logistics to serve the population of 1.3 billion? 
The temperature-controlled supply chain will need to be capable of storing, handling, and transporting such a huge increase in quantities of vaccines and other related medical supplies throughout the journey. The most direct route for deliveries of COVID-19 vaccines is paramount with agreed transit times. We are preparing ourselves, conducting careful analysis of the existing processes, planning necessary processes, and preparing for their implementation. 
The challenge is: to estimate and evaluate the capacity of handling and storage facilities as well as equipment; and assess ways to increase the capacities in a collaborative, cost effective and sustainable way. 
Do you consider it as an opportunity for the revival of the cargo industry?
Surely. The vaccine is a turning point in the way the economy has been moving. Cargo is a leading indicator of the economy and we have already started seeing green shoots. Due to reduced passenger aircraft movement, there had been a reduced capacity for the cargo freight as well, which is now coming back to normal. We are witnessing growth and vaccines are driving this. We strongly believe that this will be sustained over a long time.