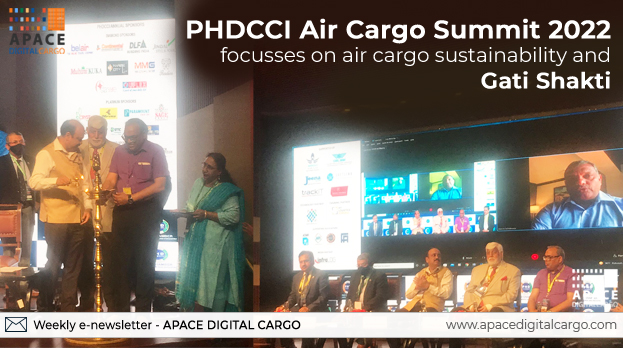 After a hiatus of two years due to pandemic situation, the air fraternity finally gathered to meet everyone with happy faces and with a hope to have a sustainable growth of air cargo sector; at Air Cargo Summit – 2022 organised by PHD Chamber of Commerce and Industry in the capital. Themed at 'Sustainable Future Growth of Air Cargo – Focus on Gati Shakti Master Plan', the Summit witnessed some key discussions between the fraternity and government officials. 
Began with a welcome address by industry veteran Vipin Vohra, who is Chair-PHD Civil Aviation Committee; the keynote session witnessed some key discussion between the government and the industry. Piyush Srinastava, Senior Economic Advisor, Ministry of Civil Aviation and Sudhendu J Sinha, Adviser (Infrastructure Connectivity – Transport and Electric Mobility), Niti Aayog – focused and presented the Gati Shakti Plan and how this can be benefited to the industry. Amrit Lal Meena, Special Secretary, Logistics Division, DPIIT was the Guest of Honour. 
The next session focusing on sustainability in air cargo sector, brought all perspective at one dias. Moderated by Former AAICLAS CEO Keku Gazder; Sanjiv Edward, CCO, GMR-DIAL; and Ramesh Mamidala, Chief Cargo Development officer, Adani Airports Limited, presented the airport perspective; whereas airlines perspective was presented by Ivo Seehann, director sales & handling, South Asia, Lufthansa Cargo. Rajesh Singh, AVP-Operations, SpiceXpress shared cargo freighter perspective while Satish Lakkaraju, Senior VP, Wiz Logtec Solutions focused on industry and pharma sector perspective; and Sunil Arora, Former President ACAAI brought freight forwarder's perspective into the pciture. A special presentation was made by Ashwin Noronha, Head of Strategy, Business Development, Noida International Airport. 
The last networking session focused on innovation and digitalization for future growth which witnessed the best IT players from the industry as panelists and along with the user Cyrus Katgara, Partner, Jeena & Co. A special presentation on ICEGATE was made by Atul Singh, Additional Director, ICEGATE, CBIC, Director General of Systems, Central Board of Indirect Taxes & Customs.