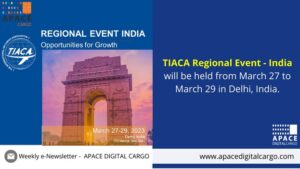 We are excited to announce that we are the official media partners for the upcoming event organized by The International Air Cargo Association (TIACA).
This event aims to bring together local members and the air cargo community to identify and discuss specific issues that affect the industry at the regional level.
The Regional Event – India will be held from March 27 to March 29 in Delhi, India.
Stay tuned for more information about this exciting event and join us as we celebrate and showcase the best of what TIACA has to offer. Don't forget to follow us for all the latest updates!